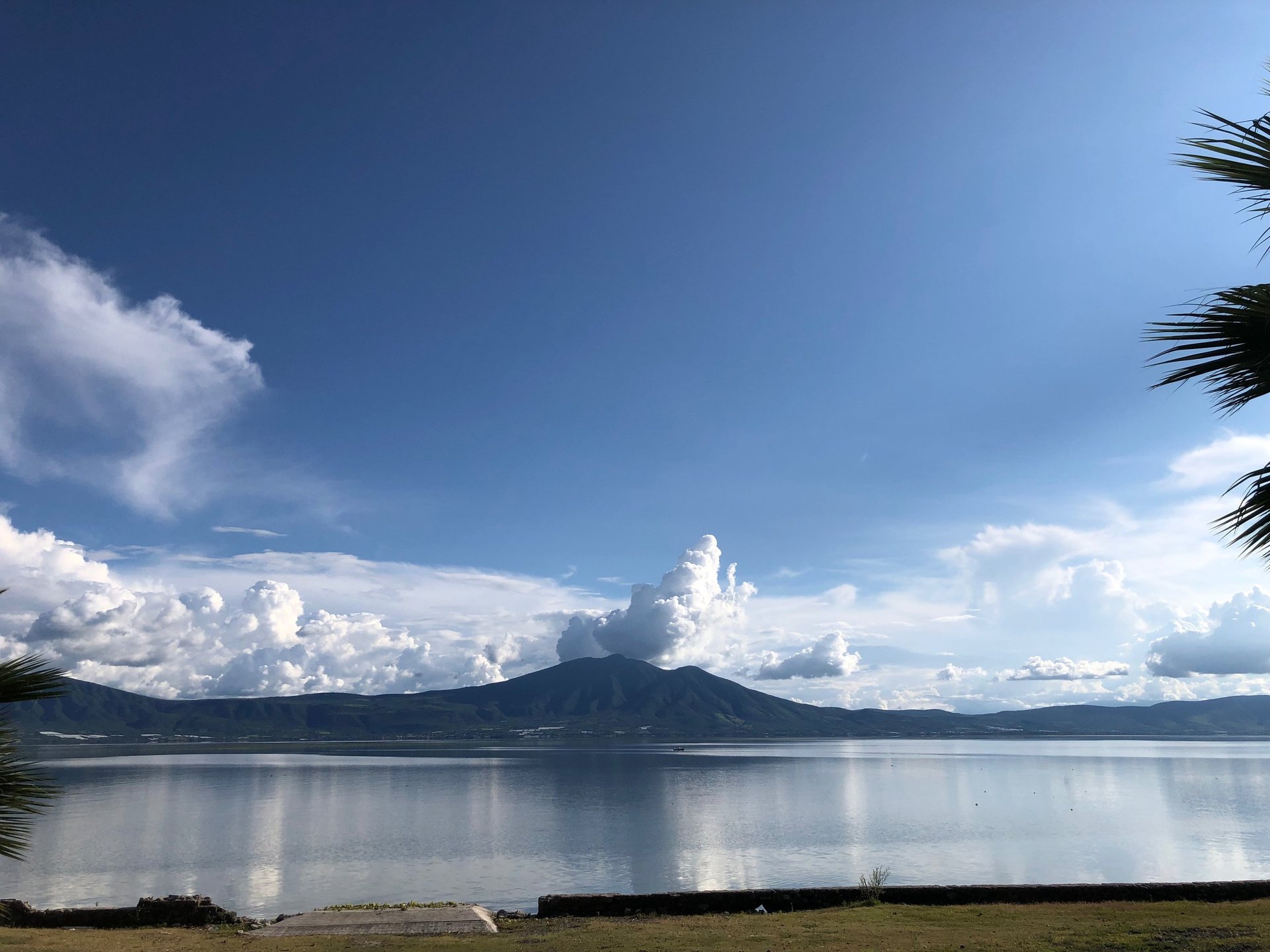 La Escuela de Mariachi "Pedro Rey" Presenta
Primer Encuentro de Mariachi
Ajijic, Jalisco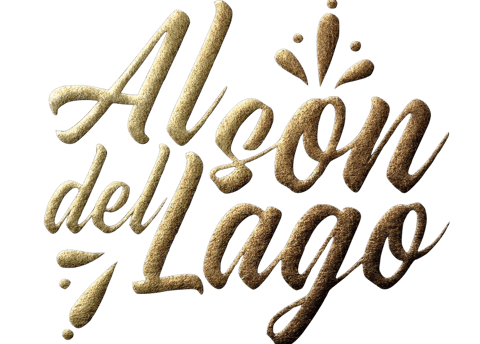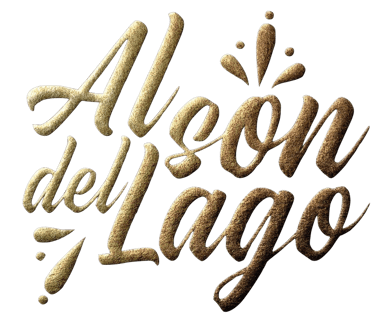 STUDENTS LEARN DIRECTLY FROM CELEBRATED MARIACHI MAESTROS.
Al Son del Lago offers three days of workshops taught by distinguished masters of mariachi music chosen for their ability to teach, in addition to performances by renowned mariachis and presentations on the history of the mariachi. There will be instruction in violin, trumpet, guitarrón, guitar, vihuela, harp and voice at different levels from novice to advanced. Students will have the opportunity to learn from and "rub elbows" with accomplished professionals and from other learners of like interests. This all takes place in one of Mexico's most beautiful towns: Ajijic, Jalisco.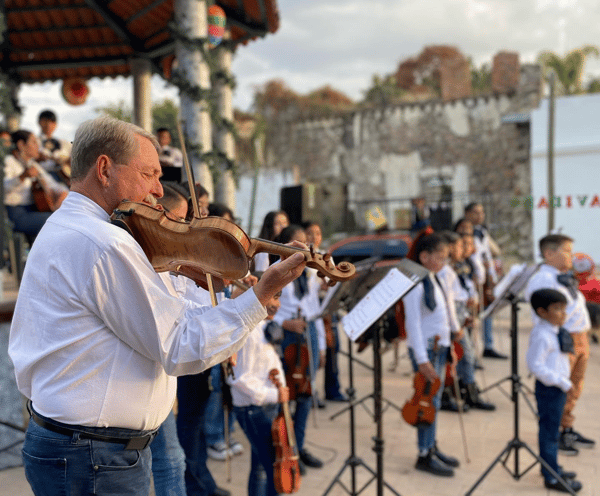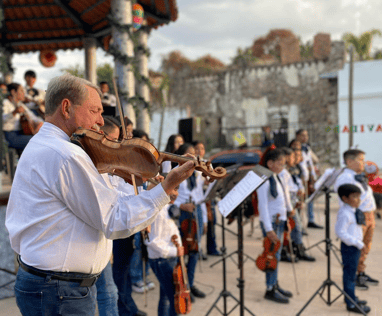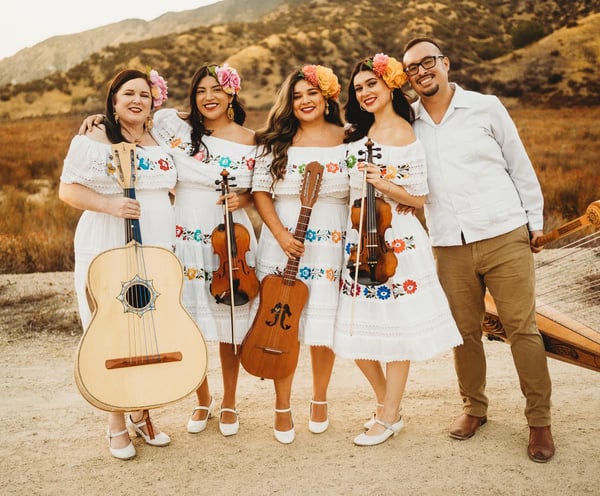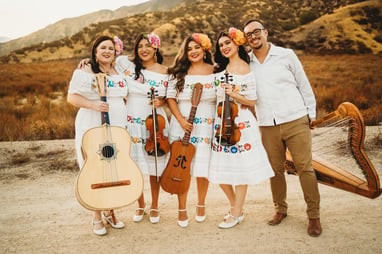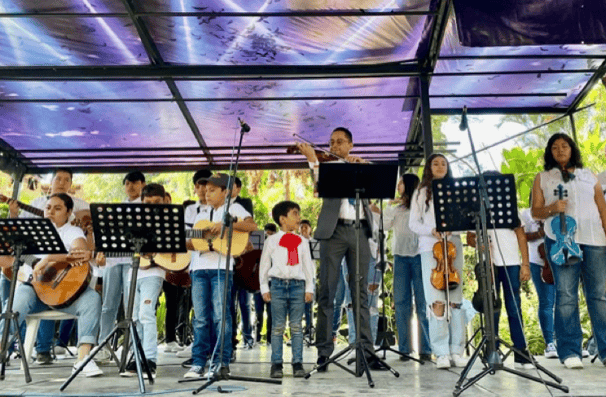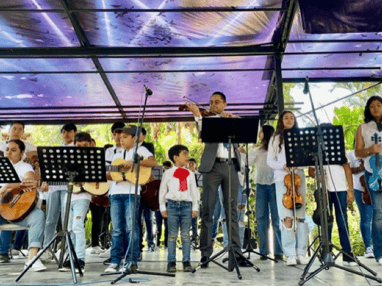 Wednesday 12. 6:00-8:00pm. Fandango. Grupo Bella. Mariachi Real Axixic. $500 pesos (Cena incluida) Baja Norte Restaurant. Carretera #30, Ajijic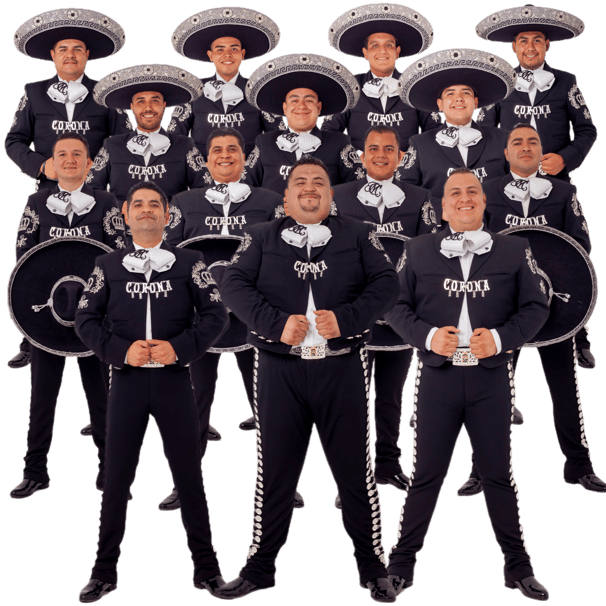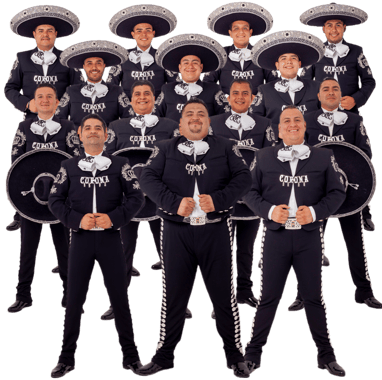 Thursday 13. 7:00-10:00pm. Public concert featuring Encuentro students and instructors plus surprise guest mariachis. Plaza de Ajijic. Free.
Friday 14. 6:00pm. Concierto de Gala. Mariachi Corona, Mariachi Femenil Corona. $500 pesos. Lake Chapala Society. 16 de Septiembre 16, Ajijic.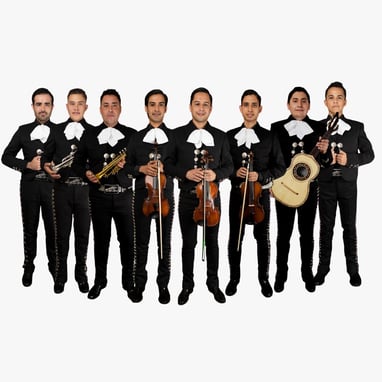 Mariachi Corona was founded in 1955 by Rafael López Chávez and the first generation of Lopez-Chavez brothers in order to accompany the greatest ranchera artists of the day (Antonio Aguilar, Flor Silvestre, Lucha Villa, Cornelio Reyna, Los Dos Oros, Miguel Aceves Mejía, El Piporro, La Prieta Linda), as they toured every corner of Mexico, as well as Central and South American with the famous Caravana Corona. The Caravana Corona was a touring spectacle that set the standards for Mexican ranchera shows for decades to come. Mariachi Corona was the "house" band for the troupe, hence the name.
Now in its third generation, Mariachi Corona is widely considered one of the best mariachis in the world and has shared the stage with the Mariachi Vargas de Tecalitlán, Mariachi Sol de México, Mariachi de América as well as Mexico's most famous singers from Vicente Fernández and Juan Gabriel to Aida Cuevas, Estela Núñez, Diego Verdaguer, Pablo Montero, los Hermanos Villalobos and others. Three Lopez brothers, Christian, Ernesto and Jonathan, currently lead Mariachi Corona to unprecedented heights of instrumental and vocal virtuosity, while remaining true to their musical inheritance: the joy of Mexico.
El Mariachi Femenil Corona tuvo sus inicios en julio del 2015 cuando María de La Luz y Denís López comenzaron un compromiso con el público amante de este bello género de la música Mexicana. Siguiendo el ejemplo de su abuelo, Rafael López Chávez, fundador del Mariachi Corona, y de sus hermanos, los actuales integrantes del Mariachi Corona, estas mujeres trabajadoras, empoderadas y excelentes intérpretes formaron lo que hoy se considera el major mariachi femenil de la República Mexicana. Con pasión, voces afinadas, limpias y enfocadas, ejecución instrumental de sorprendente calidad y arreglos espectaculares, el Mariachi Femenil Corona no deja de conquistar a todos sus públicos.
Grupo Bella is a multi-faceted musical ensemble from Los Angeles, California that uses mariachi instrumentation to perform varied styles of Mexican music, adding an original twist while still preserving its essence. The group's repertoire includes traditional rancheras, boleros, sones jaliscienses, michoacanos, jarochos and huastecos, plus cumbias, salsa, Mexican pop, and even some American classics. The members of Grupo Bella are all individually highly trained and experienced musicians, but it is the group's ensemble precision and virtuosity that amazes audiences. This is the result of meticulous rehearsal and hundreds of performances at numerous venues throughout the United States and Mexico, and even work on Grammy winning recordings. Grupo Bella was founded and is directed by Vanessa Ramírez, who is blessed with and angelic voice and uncommon musical talent. Vanessa has done extensive research and musical study in remote Mexican villages and towns in order to gather unusual repertoire and learn from true masters of Mexico's rich musical heritage. Grupo Bella's performances are stunning, with authentic instruments, custom made traditional dresses, exciting harmonies and instrumental solos. Grupo Bella's new album, Asi Suena is now available.
Mariachi Real Axixic was formed in 2016 by Daniel Arturo Medeles with the idea of reviving and spreading mariachi music in the Lake Chapala area. The ensemble is comprised of nine highly trained and talented young musicians, who spare no effort to project the mariachi as the quintessential Mexican genre and give it the prestige it deserves. Mariachi Real Axixic strives for musical and interpretive excellence through consistent personal and group development, and seeks advice and support from such highly recognized mariachi masters as Pedro Rey ("El Gallero", a Chapala native who went on to play with the world's finest mariachis), Mark Fogelquist, a veteran of 50 years as a mariachi performer, director and educator; and singer Edwin OrIgel, "La Voz de Jalisco," and ex-member of the famed Mariachi Nuevo Tecalitlán.

Mariachi Real Axixic is comprised of: Daniel Medeles (General Director, violín y voz), Juan Pablo Medeles (Musical Director and First Violin), Sergio Medeles (Second Violin), Aldo Ortiz (Guitarrón), Eliel Reyes (Vihuela), Christian Cuevas (Guitar and voice), Enrique Luna (First Trumpet), Jonathan García (Second Trumpet) and Luis Sanchez (Lead Voice). Guided by the slogan "Pura Vida," Mariachi Real Axixic offers a musical journey through México and beyond with its ample repertoire.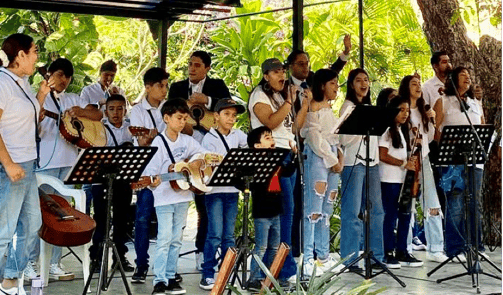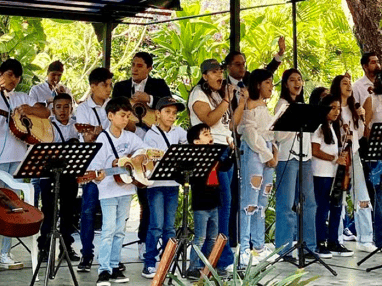 REGISTRATION
Registration includes:
Three days of instruction by world renowned maestros.


Lunch daily


Participation in workshops, mariachi history lectures, Public Concert in the Plaza (Thursday), Gala Final Concert (Friday). DOES NOT INCLUDE: BREAKFAST, DINNER, LODGING OR TRANSPORTATION.

Download registration form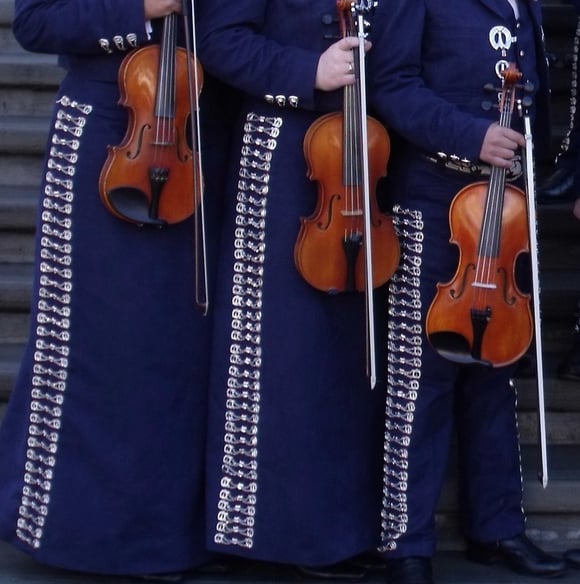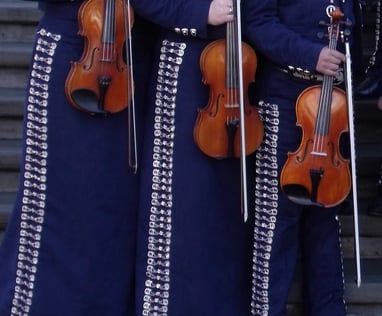 9:00-10:00. Orientación de estudiantes. Presentación de Maestros, Invitados de Honor. Presentación: música del día. Centro Cultural de Ajijic
10:00-11:00. Taller 1. (Separados por instrumento y nivel). Escuela Primaria Marcos Castellanos
11:00-11:15. Descanso. Primaria Marcos Castellanos
11:15-12:15. Taller 2. Primaria Marcos Castellanos
12:15-1:30. Almuerzo. Primaria Marcos Castellanos
1:30-2:30. Historia del Mariachi: Jonathan Clark. Todos. Centro Cultural de Ajijic
2:30-3:30. Ensayo general. Todos. Centro Cultural de Ajijic
6:00-8:00. Fandango. Grupo Bella. Mariachi Real Axixic. $500 incluyendo cena. Baja Norte Restaurant.
9:00-9:45. Presentación de la música del día. Centro Cultural de Ajijic
10:00-11:00. Taller 4. Primaria Marcos Castellanos
11:00-11:15. Descanso. Primaria Marcos Castellanos
11:15-12:15. Taller 5. Primaria Marcos Castellanos
12:15-1:30. Comida. Primaria Marcos Castellanos
1:30-2:30. Historia del Mariachi: Pedro Rey. Todos. Centro Cultural de Ajijic
2:30-3:30. Ensayo general. Todos. Centro Cultural de Ajijic
7:00-10:00. Concierto Público. Estudiantes e instructors. Grupo Bella. Mariachi Real Axixic. Gratis. Cash Bar. Plaza de Ajijic.
9:00-10:00. Repaso de música. Separados. Primaria Marcos Castellanos
10:00-10:15. Descanso. Primaria Marcos Castellanos
10:15-12:00. Ensayo general. Todos. Centro Cultural de Ajijic.
4:00-5:00pm. Sound check. Lake Chapala Society.
6:00pm. Concierto de Gala. Estudiantes. Mariachi Femenil Corona. Intermedio. Mariachi Corona. $500 pesos. Lake Chapala Society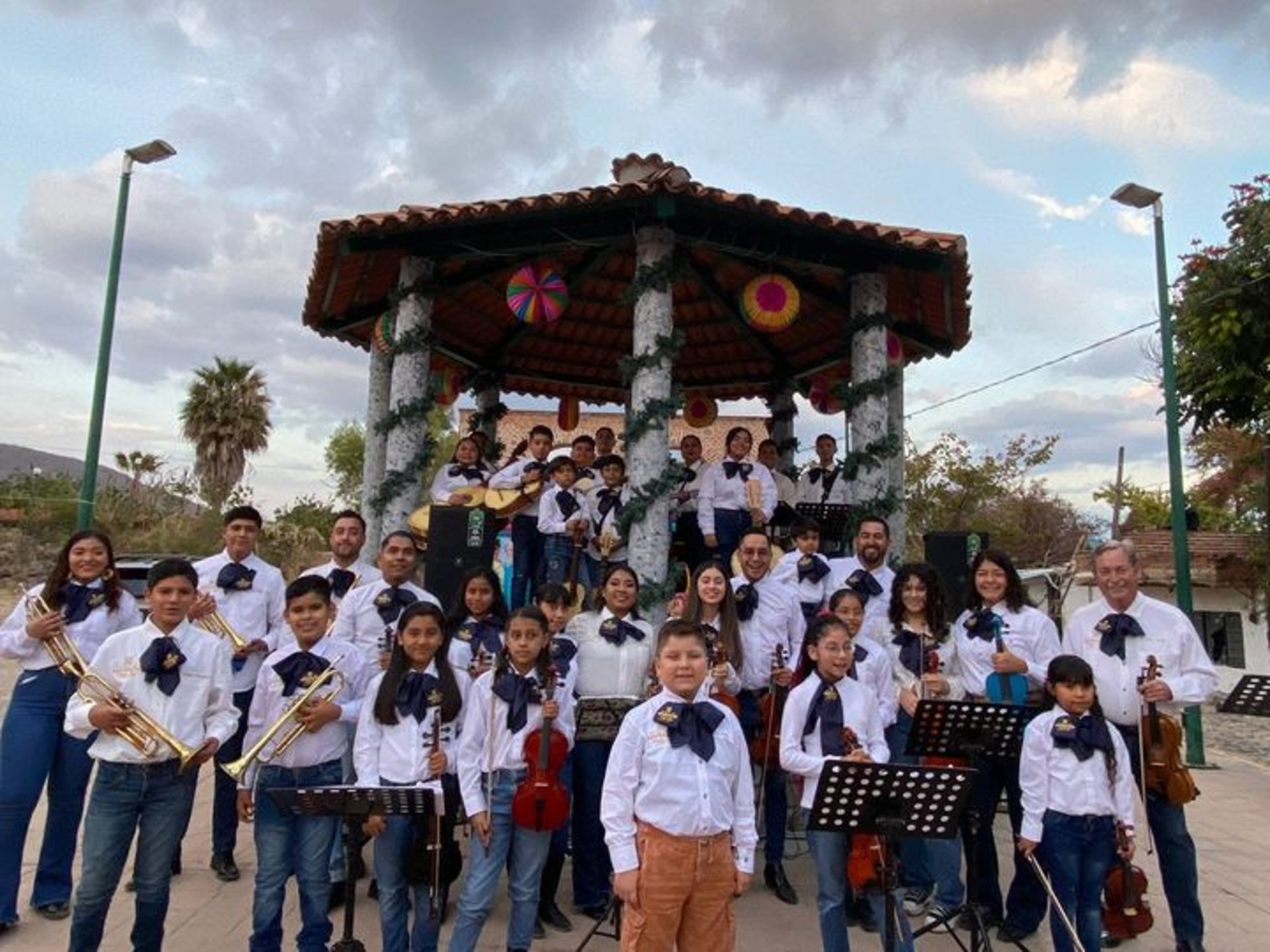 Hotel Ajijic Plaza Suites
Calle Colon 33, Ajijic 45920
Estrellita's Bed & Breakfast
16 de Septiembre #18, Ajijic 45900
Casa de Como
16 de Septiembre 20, Ajijic 45920
Hotel Italo
Calle Guadalupe Victoria 8 Colonia Centro, Ajijic 45920
Casa del Sol Inn
Calle Javier Mina # 7, Ajijic 45920
The Garden Of Dreams Boutique Hotel & Spa
Calle Constitución 105 Constitución 105, Ajijic 45920
Hotel La Estancia
Privada Morelos 13, Ajijic 45920
Hotel Casa Blanca
16 de Septiembre # 29, Ajijic 45920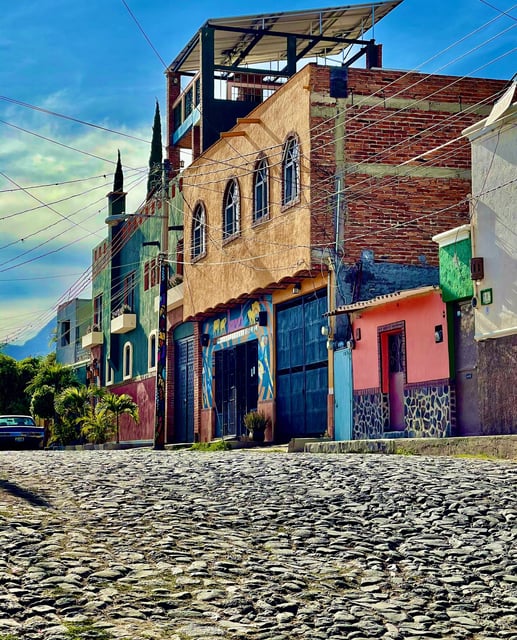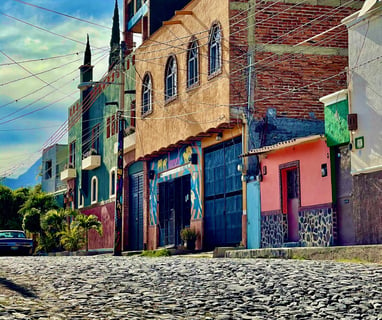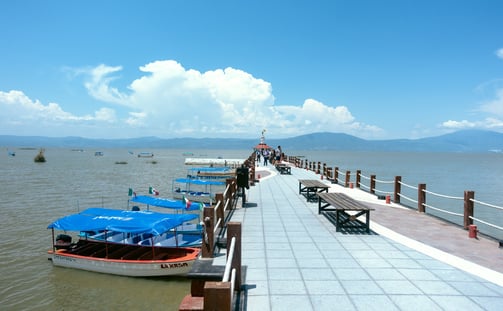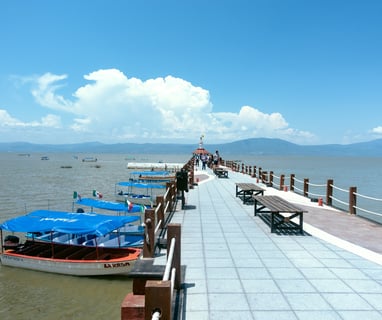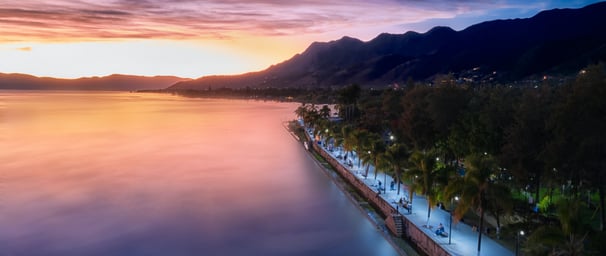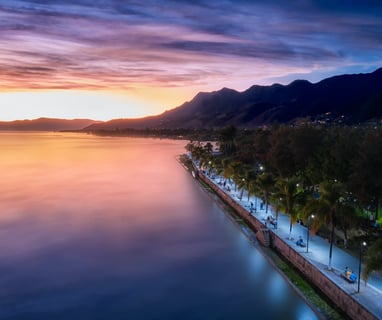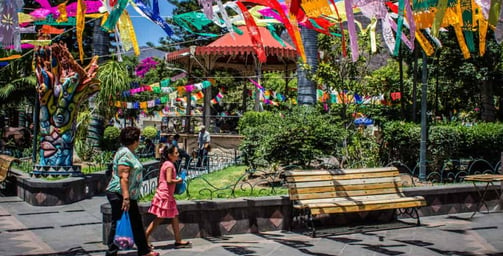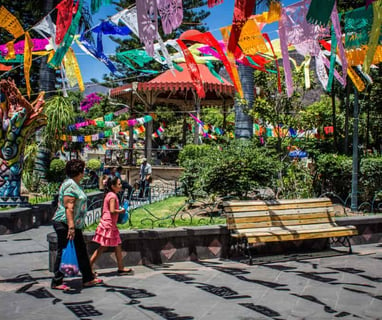 Learn more about Ajijic at these links: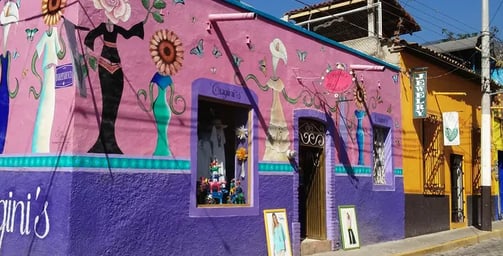 Ajijic possesses a creative energy, the beauty of the lake, perfect year-round weather, friendly people, and the mountains surrounding this beautiful paradise, making it a favorite for musicans and artists. Visit the malecon, shops, plaza, spas, churches, and hundreds of restaurants, just half an hour from Guadalajara international airport.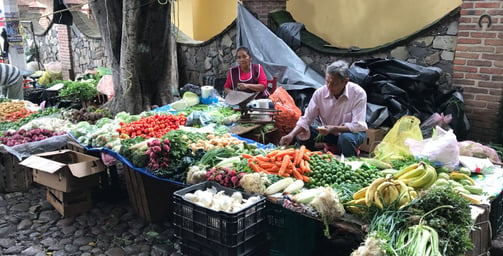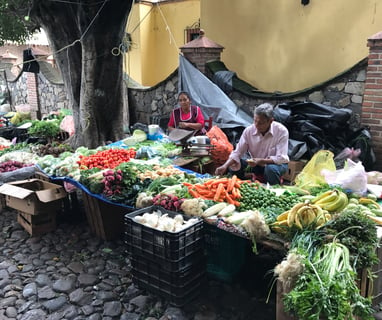 TOP PROFESSIONAL INSTRUCTORS
Instructors have decades of experience performing and teaching to share.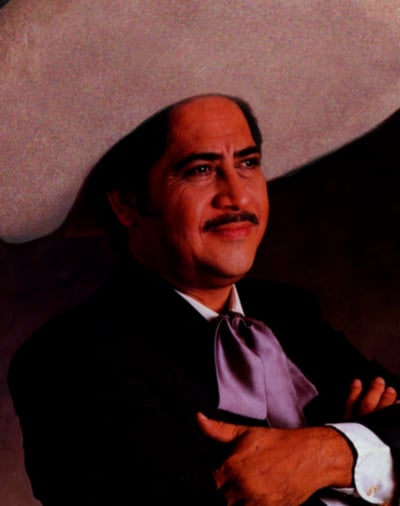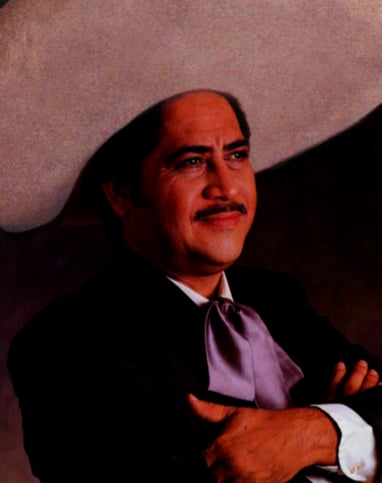 Chapala, Jalisco native Pedro Hernández — better known as Pedro Rey — is a towering figure in mariachi music. His group Los Galleros gained fame as one of the finest mariachis in the United States. Los Galleros' five albums and Pedro's solo LP with Mariachi Vargas, as well as their numerous singles, are some of the most highly sought-after vinyl discs among mariachi collectors today.
Today Pedro Rey lives in his native Chapala and is semi-retired. He frequently rehearses numerous ensembles and teaches at the mariachi school that bears his name in nearby town of Ajijic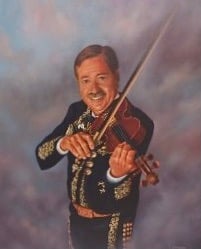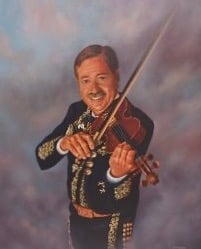 Juanpi Medeles
Real Axixic
Sergio Medeles
Real Axixic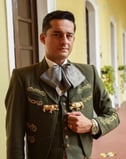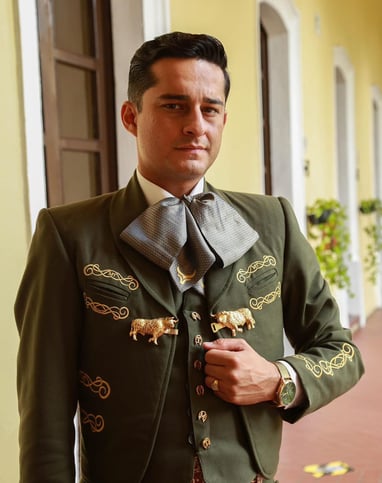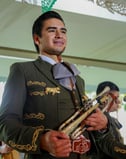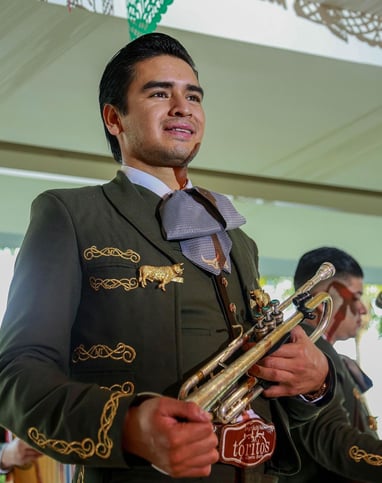 Juanpi Medeles
Real Axixic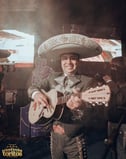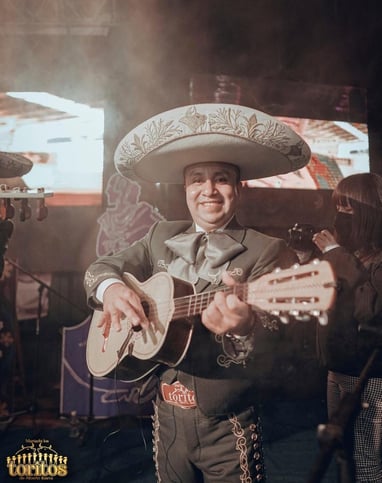 Christian Cuevas
Real Axixic
José de Jesús Medeles
Real Axixic
Vanessa Ramírez
Grupo Bella
Diana McConnell
Grupo Bella
Michael Tejada
Grupo Bella
Edwin Origel
La Voz de Jalisco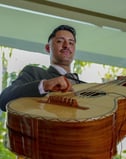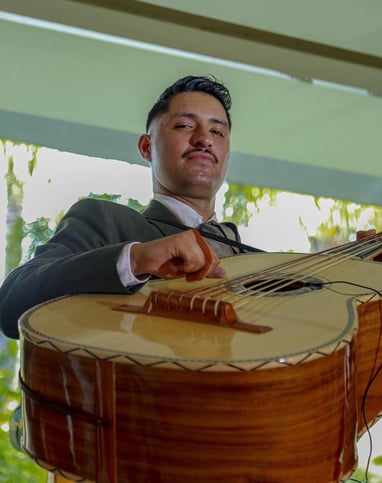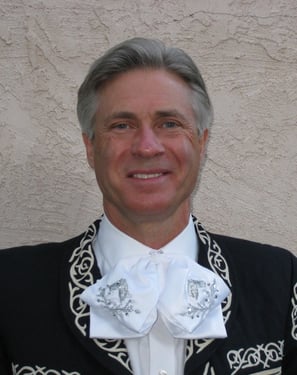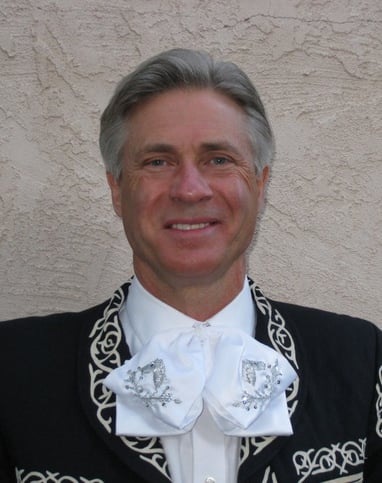 Mark Fogelquist received his BA and MA in Ethnomusicology from UCLA. His master's thesis (1975) was the pioneering academic work on mariachi music. From 1973 to 1993, Fogelquist directed Mariachi Uclatlán, one of the Los Angeles area's leading professional mariachi ensembles. In 1993, Fogelquist moved to Wenatchee, Washington, where he organized the state's first school mariachi program. During his eight-year tenure in Washington, Mariachi Huenachi, came to be recognized as one of the top student mariachis in the country. He also organized six full scale mariachi conferences, which drew instructors and students from across the country. Mariachi Northwest, as the conference was called is still alive twenty-three years later. For his work as an educator and contributor to culture in Washington he received the Governor's Heritage Award as well as the Reconocimiento Ohtli, the highest award of the Mexican government for individuals contributing to the well being of Mexicans abroad. In 2001 Fogelquist returned to California to teach at Chula Vista High School, where he began another acclaimed mariachi program. Mariachi Chula Vista won numerous awards and competitions and was honored by the New York Times, the Music Educators National Conference, the Smithsonian Folklife Festival, and the Encuentro Internacional del Mariachi in Guadalajara. Fogelquist received the California Music Educators Association's Multicultural Music Educator Award (2003) and the San Diego Youth Symphony's Music Educator of the Year Award (2007). He also organized six mariachi conferences in Chula Vista, providing workshops and concerts to even larger numbers than in Wenatchee. Fogelquist has been a presenter, speaker, and instructor at mariachi conferences and festivals around the country including those in Albuquerque, Tucson, San Jose, Las Cruces, Las Vegas, Fresno, Santa Barbara, Seattle, Edinburg, and San Antonio, and Guadalajara. In July 2022, Fogelquist was inducted into the Mariachi Hall of Fame, the only non-Mexican to receive this honor. He now lives in Ajijic, Jalisco, where he is involved in establishing the Escuela de Mariachi "Pedro Rey" and organizing Al Son del Lago, Ajijic's first mariachi conference.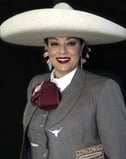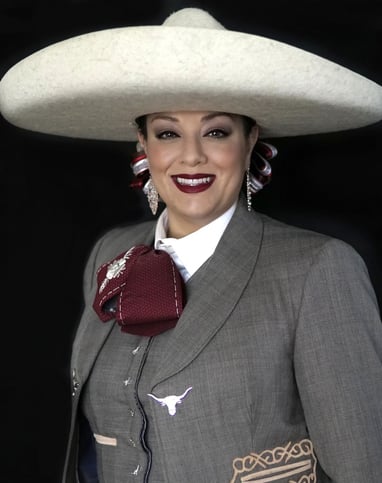 Jonathan Clark first heard mariachi music in 1974 while a student at San José State University. He received his first formal mariachi instruction from Mark Fogelquist, learning to play the guitarrón at the same time he learned to speak Spanish. In 1977, he visited Mexico City, where he opportunely met Mariachi Vargas de Tecalitlán, and where he remained for more than a decade working as a guitarrón player in Plaza Garibaldi.
A defining event in Clark's life occurred in 1978 when he met the legendary Silvestre Vargas, retired director of Mariachi Vargas de Tecalitlán. After that fortuitous encounter, he became an intuitive historian of mariachi music.
In 1991, Clark returned to his home state of California where he directed the mariachi music programs at San José State and Stanford universities. He frequently publishes articles and gives talks on different aspects of the mariachi tradition. He edited Miguel Martínez's autobiography Mi Vida, Mis Viajes, Mis vivencias… (Conaculta 2012). In 2013, the Mexican government conferred upon Jonathan the Vicente T. Mendoza award for his work in the documentation and analysis of mariachi music. He is currently a member of Mexico's National Commission for the Preservation of the Mariachi (CONASAM).
Daniel Medeles was born in 1991 into a family of musicians whose roots go back five generations. His freshness, musicality and versatility make Daniel a marvelous mix of the academic and vernacular with experience as a symphonic violinist and musical director of a variety of groups. Currently mariachi music has taken over his life and he is the artistic director of the Mariachi Real Axixic, the Escuela de Mariachi "Pedro Rey" and the Ajijic mariachi Festival, Al Son del Lago. Daniel continues to pursue his own musical training with well known teachers: Teresa Banderas (voice), Pedro Rey (musical direction and violin) and Mark Fogelquist (pedagogy).